WHAT IS NEOGEN PSR: HOW TO KNOW IF IT'S RIGHT FOR YOU
As you all know by now, WE SIMPLY LOVE NEW TECHNOLOGY! And that's why we are so excited to introduce you to Neogen PSR!  The NeoGen plasma skin regeneration treatment is a dramatically different, non-invasive and clinically proven skin resurfacing procedure for the face, neck, decolletage, eye area and hands. The results are dramatic. You'll feel as though you've turned back the hands of time with Neogen PSR.
Why does NeoGen stand out from other devices? 
Neogen is a clinically-proven Nitrogen Plasma technology that treats all layers of the skin with less downtime and complications than other energy devices. Patients see visible results even with just one treatment. The treatment is Health Canada approved and, although this treatment is new to Canada, it has been used in Europe for over 10 years. We are excited to be the first in Western Canada to offer this amazing treatment.
How does Neogen work?
The plasma energy is derived from nitrogen gas. During treatment plasma preserves the skin's outer layers which act as a natural protective dressing until new healthy skin regenerates underneath. When we are young kids, our bodies produce Collagen 3 (young collagen) but as we age our production of collagen changes to collagen 1 and 2 (old collagen). NeoGen treatment boosts the production of collagen 3 (young collagen) while strengthening the fibroblast and elastin in the deeper layers of the skin. These are the building blocks on which healthy skin is built. Surface improvements will appear quickly, but collagen remodelling will continue for 12-24 months. And the best part is the results are permanent.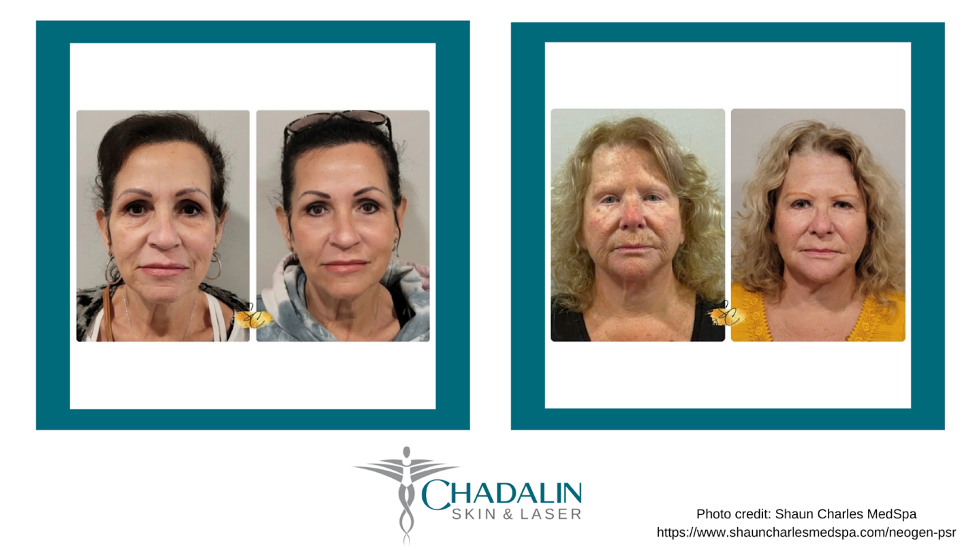 One treatment improves skin quality, fine lines, and wrinkles, scarring and overall skin health. The treatment treats the upper eyelids safely as the plasma energy that is delivered to the eyelid tissue does not penetrate through to the cornea making this treatment incredibly safe.
What is the downtime and recovery?
The recovery and downtime depends on which type and level of treatment you receive. You may experience some redness, inflammation, and peeling.  There are two levels of treatments with Neogen.


Low Energy – This level of treatment will have less downtime. The downtime with low energy is between 3 and 5 days.  We recommend 3 low treatments 6 weeks apart for optimal results. However, it only takes one treatment for significant improvements to be achieved.


High Energy – The downtime is between 7 and 10 days and only one treatment is needed.
To give you an example of the intensity of the high energy treatment, 3 low energy treatments are equivalent to 1 high energy. As such, we strongly recommend a FREE consultation with Dr. Venter to discuss the best treatment plan for you.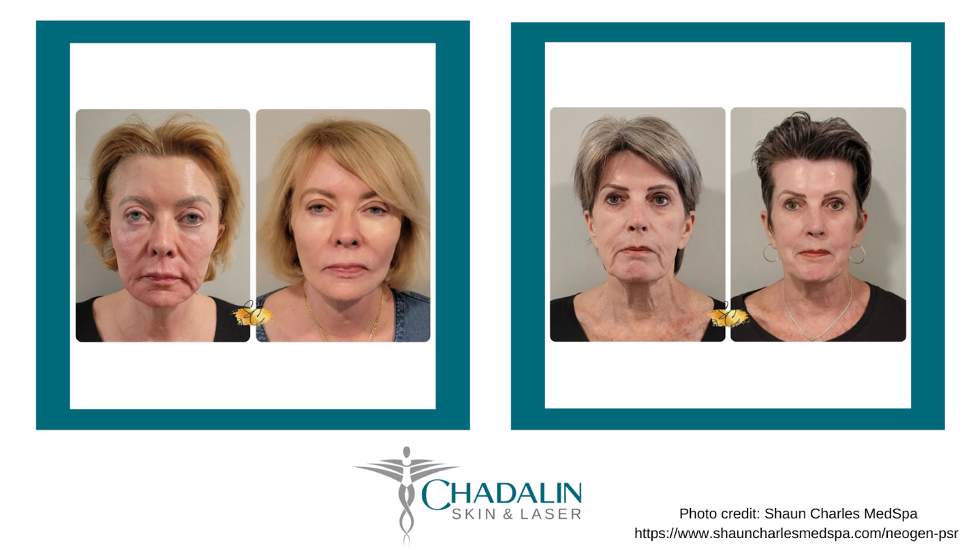 What is the difference between Neogen Plasma and Laser?


Plasma is NOT a light source-based treatment. It is created when enough energy is applied to a gas to enable electrons to escape.


Thermal energy is released when the electrons (remember them escaping?) have been recaptured by positively charged atoms.


Plasma is NOT chromophore dependent. With lasers we need a dark hair follicle or pigment to treat different skin conditions.


Plasma does NOT vaporise the skin tissue. Some laser treatments do.


Plasma treatment leaves the outside layer of the skin intact.


The epidermis acts as a natural biologic dressing (like a bandaid) which promotes wound healing and rapid recovery.


Neogen Plasma is NOT fractional and treats the whole skin architecture.
What are some of the conditions that Neogen can treat? 
Wondering if you're an ideal candidate for Neogen treatment? We always recommend a FREE consultation before we schedule any treatment. That being said, ask yourself the following questions:


Do you want a more youthful appearance and tighter skin?
Would you like to improve your skin tone or treat pigmentation?
Do you have fine lines and wrinkles that you would like to reduce?
Does acne scarring make you self-conscious about your skin?
Do stretch marks bother you?
Are you struggling with:
Sunspots
Active acne or scarring
Scars
Stretch marks
Burn scars
Pore size
Wrinkles – mild, moderate, or severe
If you answered yes to any of the questions above, then Neogen might just be the right treatment for you! As you can see from the before and after photos, the results from NeoGen treatment are truly remarkable.  Now you can see why we are so in love with this new technology! If you want to turn back the hands of time with NeoGen, then reach out to our experienced team for your complimentary consultation today!
Kind Regards,
The Chadalin Team